Here you can learn how to perform HDD data recovery using the best free hard drive recovery software – Eassos Recovery Free Edition. It enables users to recover lost files or partitions effortlessly from hard disk drive, USB disks, memory card, external HDD via simple steps. Free download the HDD data recovery tool to recover whatever you lost now.
About HDD data
recovery
It is a regular thing that
files get lost from hard drive disk, for example, delete files by mistake, hard
drive gets damaged, etc. HDD data loss can lead to great loss to both business
and individuals. Fortunately, in many cases, lost files can be recovered from HDD
if you use an effective HDD data recovery tool, for example Eassos Recovery.
If you've never backed up files, you are more likely to lose files, for there are too many factors that can result data loss issue. Typically, HDD data can lose due to logical damaged or physical data to the device. It is difficult for common users to recover data from a physical damaged hard disk, for example, HDD cannot be detected by computer. In this situation, you need to seek help from professional data recovery center. As to logical data loss issues like deletion, formatting, system crash and so on, we can try HDD recovery method discussed in this guide to get back deleted, lost or formatted files quickly and easily.
Commonly used
methods to do HDD data recovery
To rescue data which is lost
due to logical damages, you can try following methods one by one. Lost or
deleted files & partitions can be recovered successful as long as they are
not overwritten.
Method 1: Restore deleted
files from Recycle Bin. In general, deleted file of your PC will be put into
Recycle Bin after deletion, and you can restore them before emptying Recycle
Bin. You can restore deleted files to the original location directly.
Method 2: Retrieve lost data
from backup. If you keep backups for important data, you can choose to restore
data from backups.
Method 3: HDD data recovery software. If neither method above works on the recovery of hard disk data, you can try free HDD data recovery tool which can scan the device and recover lost data for you.
Free HDD data
recovery tool download
Eassos Recovery Free is safe
& effective HDD data recovery freeware that helps to recover lost files
from hard drive free. You do not need to worry about the data loss cause, this
HDD recovery free tool supports to recover all your data lost due to accidental
deletion, formatting, RAW drive, virus, system crash, partition missing and
other unknown reasons.
Recover all possible file types: Eassos HDD data recovery tool can recover more than 500 file types of data, including photos, documents, videos, audios, text, email, apps, archives, etc.
It woks for almost all data storage devices such as hard drive, external HDD, flash drive, pen stick, memory card, digital camera and more.
Advance scanning technique: scanning storage device bit by bit to recognize any lost information, which guarantees a great recovery result and high success rate.
Supported OS: For Windows 10/8/7/XP/Vista
HDD data
recovery guide: how to recover lost data from hard drive?
This part concentrates
on a step-by-step guide to recover lost data from HDD with free HDD data
recovery tool. Eassos Recovery Free allows users to restore lost data from hard
drive easily, such as undelete files, unformat HDD, recover data from corrupted
HDD partition, restore lost or deleted partitions to working status, etc.
You can
download and install this free HDD recovery tool on your Windows 10/8/7 PC and
follow steps below to recover missing data. Eassos Recovery Free Edition can
recover 1GB data free of charge. If you want to recover extra data, you can
upgrade the free edition to Full edition via entering a serial key. The full
edition supports to recover unlimited data. You can click the Upgrade To Full
Version from the interface to purchase a serial key.
Step 1: Select a
recovery option.
You can see
4 recovery options from the main interface, and you need to choose one
according the actual data loss cause. If you are not sure how to make the
decision, you can try one by one or contact technical support.
If you need
to deal with complicated data loss issues, such as ext4 data recovery, damaged disk
recovery, etc. then you can try DiskGenius.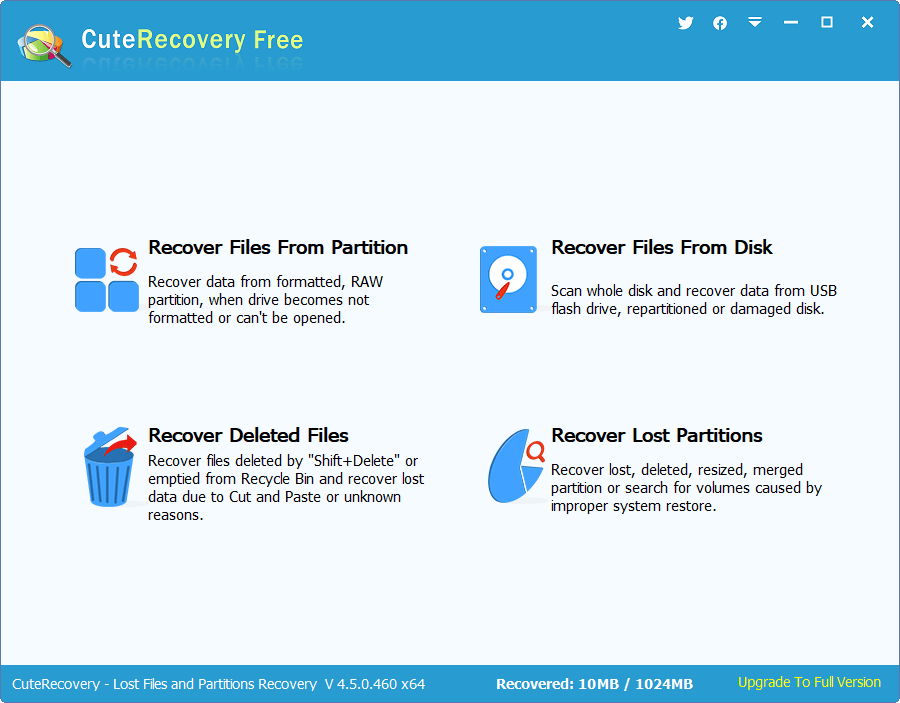 Step 2: Choose a
drive to scan.
In this
interface, Eassos Recovery Free shows a list of partitions of hard drives on
your computer and you should find the one that needs recovering data.
You need to
choose the correct drive before clicking Next button so that the
software can scan the partition and find lost data.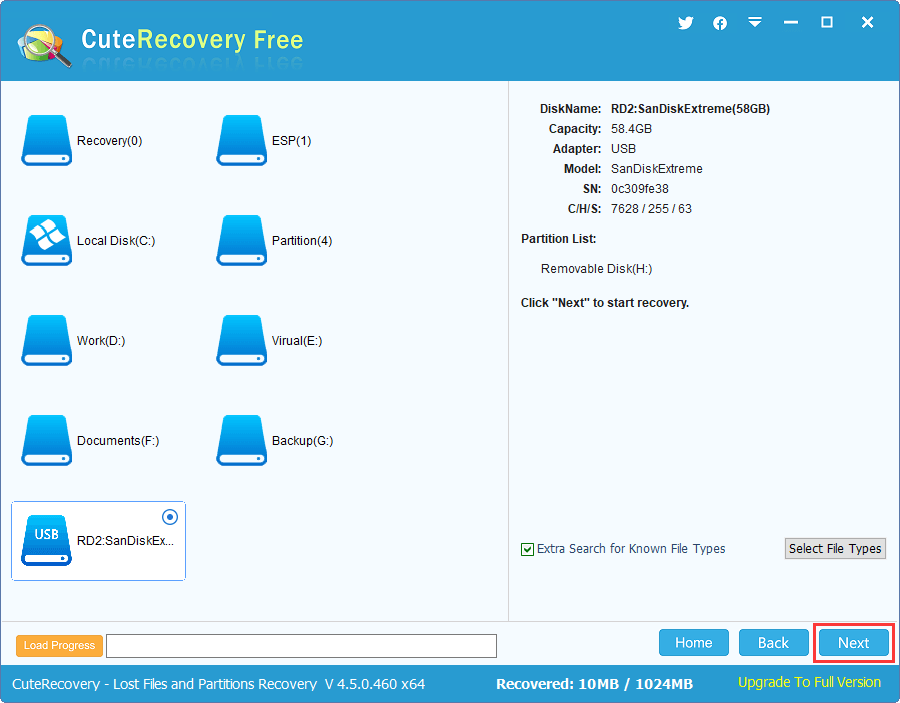 Step 3: Preview
and recover HDD data.
After
canning, you can preview files before restoring them from the disk. Files can
be opened in a previewing window that showing content clearly.
Choose wanted files from scanning result and click Recover button to save them to a safe location.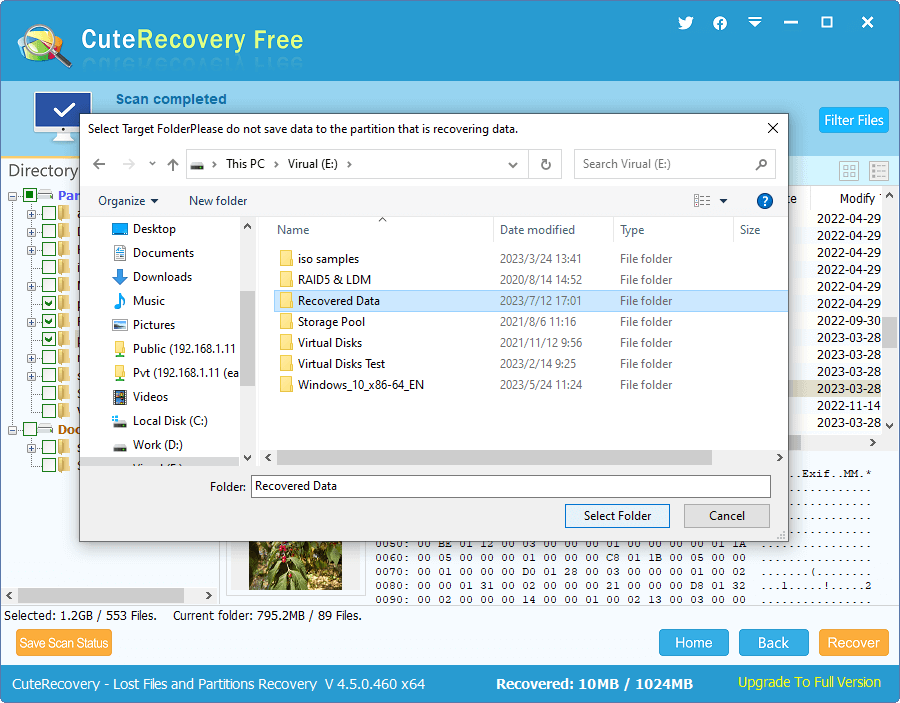 Video guide to
recover deleted & lost HDD data
If you want to get a better understanding of the recovery process, now you can follow the following tutorial video guide to perform a quick and secure HDD recovery with Eassos Recovery.
Conclusion
It has been proved by
numerous users that HDD data may get lost due to various causes and the best
way to get back lost data is performing HDD data recovery as soon as possible
with the help of correct recovery tool. If you are not sure how to start the
recovery, you can refer to the guide above or contact our support team via
email.
Related articles
Download HDD data recovery tool to
recover lost data
Hard drive recovery software free
download
How to recover data from external hard
drive in Windows 10/8/7?
from Eassos Blog https://www.eassos.com/blog/hdd-data-recovery/