In this article, we are going
to talk about USB partition recovery, and you can learn how to recover data
from USB partitions with free partition recovery software. Eassos USB data
recovery software can help you recover data from deleted, lost, formatted,
corrupted, damaged or RAW partitions.
About USB partition recovery
USB disk such as external
hard drive and USB flash drive are widely used in these days, and they are used
to store and transfer all kinds of files, like music, videos, pictures, working
files, emails, apps, backups and so on. Similar to computer hard drives, USB
disk should also be partitioned before it can be used to store data. USB partitions
can be formatted to NTFS, FAT32, exFAT or EXT file system, so that they can be
used on different operating system platforms.
One thing needs to mention is
that USB disk also suffers from data loss issue even though you are very careful
to avoid it. Here are some reasons that you need to do USB partition recovery:
USB partition gets formatted:
you may need to format USB disk to change file system format, fix partition
errors, create bootable USB disks, etc. After formatting, files that haven't
been backed up will be missing.
Delete partition by mistake:
USB partitions can be deleted either in Windows 10 Disk Management or disk
partition software.
Corrupted, damaged or RAW USB
partition: Partition on USB disks or other removable drives prone to gets
damaged or corrupted due to improper usage. With a RAW or corrupted USB
partition, you are no longer able to access files in it.
Best USB partition recovery software free download
Eassos Recovery Free Edition
is free USB partition recovery software that provides complete function to deal
with USB partition recovery task. If you mistakenly delete or format partitions
from USB drive, or USB partition gets corrupted or damaged, you can use this
recovery tool to get back lost files and partition with simple steps.
It can help you perform USB drive
recovery, SD card recovery, external hard drive recovery, hard drive recovery, deleted
file recovery, format recovery, partition recovery and so on.
The recovery process is READ
ONLY and does not cause damage to lost data or device.
The software is very easy to
use due to the recovery wizard. A few simple clicks can complete the recovery.
And there is not need to acquire professional computer skill in acvance.
File preview is available prior
to actual recovery, which helps to check the quality of lost files.
The Free Edition can be upgraded
to Full Edition which can recover unlimited amount of data.
It is compatible with all Windows
versions including Windows 10, Windows 8.1, Windows 8, Windows 7, Windows Vista
and Windows XP.
USB partition recovery guide: recover lost data from USB
partition with ease
Step
1: Connect
the USB disk to your computer which runs Windows system normally.
Step
2: Download
and install the free edition of Eassos USB data recovery software on your PC.
Then launch it after installation completes.
Step
3: Select
recovery mode from main screen.
You can see four options on
the main screen, and you need to choose one based on data loss cause.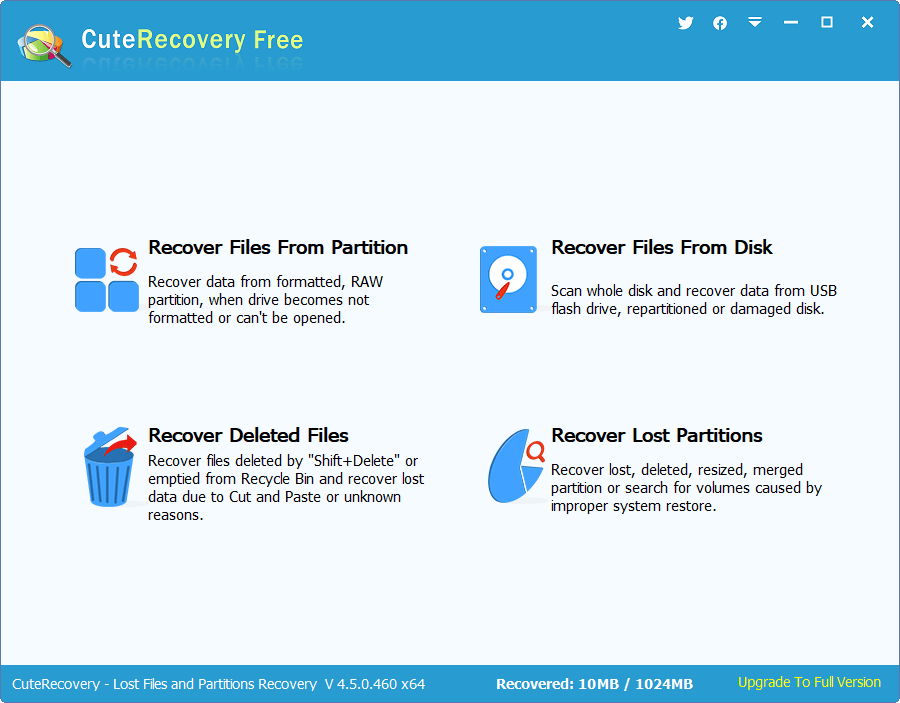 Recover Files From partition:
retrieve lost data from formatted, RAW, corrupted or damaged partitions
Recover Deleted Files:
restore deleted from emptied Recycle Bin or USB disk.
Recover Files From Disk: scan
the entire disk to locate lost files and partitions.
Recover Lost Partitions:
recover lost, deleted or missing partitions from disk.
Step
4: Select
device and search for lost data.
Choose a location and click Start button to let Eassos Recovery
Free search for recoverable data.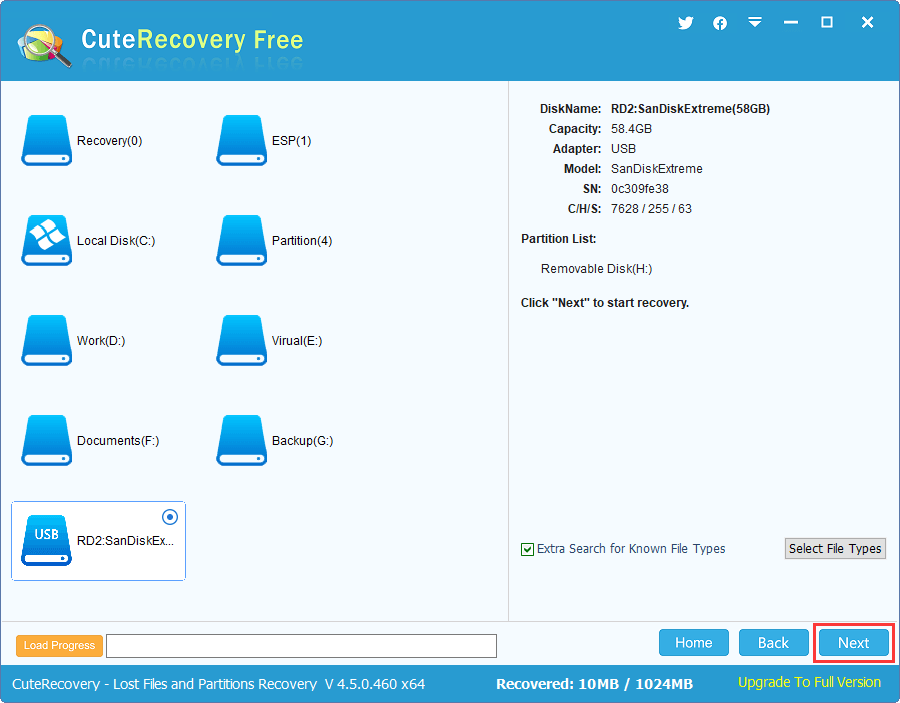 Step
5: Preview,
filter data from USB partition.
You can preview data listed
in scanning result as well as filter recoverable files. To get data recovered,
you need to copy and save them to a different location. Choose files and click Recover button.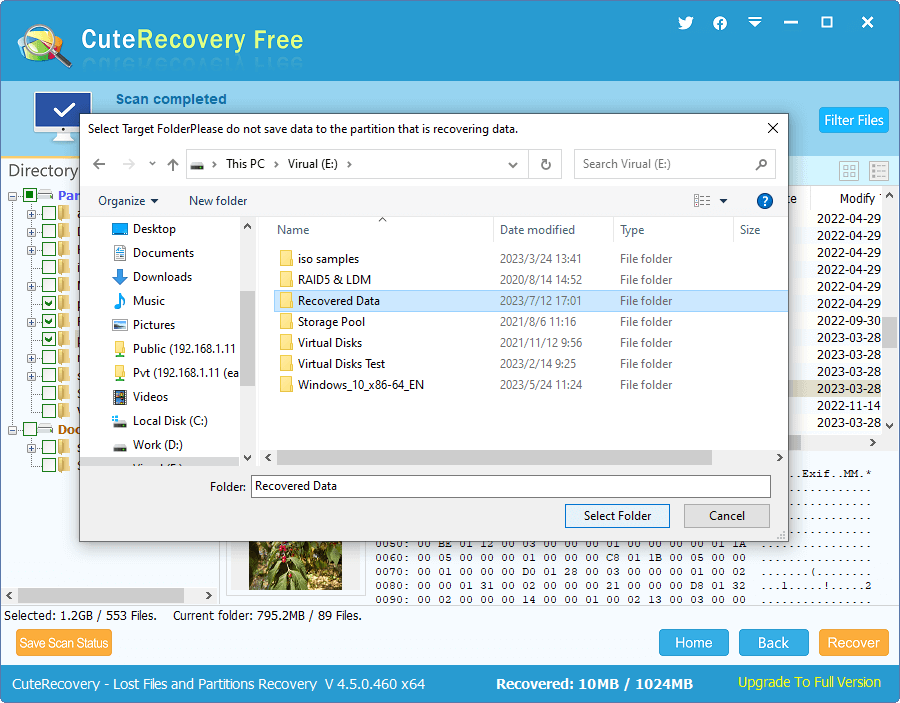 Tips on USB partition recovery
USB partition recovery is an
easy task though, we should not ignore the importance of preventing USB data
loss issue. Here are some suggestions to help you avoid USB disk data loss.
Backup files stored on USB
partition regularly. You should remember to create a backup of important files,
for data can get lost due to various reasons. You can simply copy and paste
files from USB partition to computer hard disk, which won't take very long
time.
Safely remove USB disk from
computer. Some users would like to disconnect a USB disk directly without using
the "Safely Remove Hardware". Such action is likely to cause USB partition corruption
or missing.
Run a virus scanning for USB
disk before transferring data. The USB partition may infect virus when it is connecting
to computer, which may lead to data loss issue. Therefore, it is necessary to
check virus, especially it is used on other devices.
Put your USB disk in safe
place. USB disks are small and portable device, and it is easy to drop or lose
it. Dropping the disk might cause physical damage, after which you will have to
ask help from professional data recovery companies.
Conclusion
With Eassos Recovery Free you
can easily get back lost data from deleted, missing, formatted, corrupted or
RAW partition on USB disks or hard drive. If you are troubled by USB partition
loss issue, you can follow this guide to recover USB data now.
If you have any question
regarding USB partition recovery or Eassos data recovery software, you can
leave a comment here or contact our support team via email. We will reply as
soon as possible.
Related articles
Partition Recovery – Recover Lost or
Deleted Partitions
Lost Partition Recovery – Recover
Deleted & Lost Partitions in Windows 10/8/7
How to recover formatted partition in
Windows 10/8/7?
RAW partition recovery – how to recover
data from RAW drive
Linux Partition Recovery – Recover
Deleted/Lost/Formatted Linux Partition
from Eassos Blog https://www.eassos.com/blog/usb-partition-recovery/